Regular price
$34.00 USD
Sale price
$15.00 USD
Unit price
per
Sale
Sold out
Purifying oil blend with high anti-inflammatory and anti-bacterial properties. It deep cleanses, removes impurities from pores and kills acne causing bacteria in pores. Excellent for acne-prone, combination & normal skin. Pores are left significantly cleaner and clear.
Read more about the wonders of oil cleansing.
Benefits:
Deep cleans without over-drying skin
Purifies and unclogs pores
Melts away dirt, makeup & impurities 
Helps reduce and prevent breakouts
Softens & nourishes skin
Improves overall skin health
Key Ingredients:
Hemp Seed Oil
Jojoba Oil
Tea Tree Oil
Recommended for: Acne-Prone, Combination & Normal Skin
To Use: Massage oil into dry skin for 1-2 minutes. Place a warm washcloth over face, then wipe to remove oil and impurities. 
Tips: 
Oil cleanser must be applied to dry (dirty) skin.

A microfiber cloth is recommended to remove oil during oil cleansing. Ensure that the removal cloth is clean prior to each use. 
Follow oil cleansing with your regular soap cleanser.
Use especially at nights to remove skin's daily buildup. 
If you are new to oil cleansing: It is normal for skin to take a week or two (depending on your skin type) to adjust to the oil cleansing method. There is the possibility that there might be a detox reaction to oil cleansing. This is usually the skin purging itself from all toxins and buildup of impurities. This is highly dependent on your skin type. If you experience a purge, please allow the oil cleansing method to work for at least 3-4 weeks before results. Discontinue use immediately if skin has an allergic reaction.
Skin Loving Pros:
All Natural Ingredients
Plant-Based

Paraben-Free
Chemical-Free
Sulfate-Free
Cruelty-Free 
Caution: For external use only. Conduct patch test for allergies. Discontinue use if product irritates skin.
These statements have not been evaluated by the Food and Drug Administration. This product is not intended to diagnose, treat, cure, or prevent any disease.
Share
View full details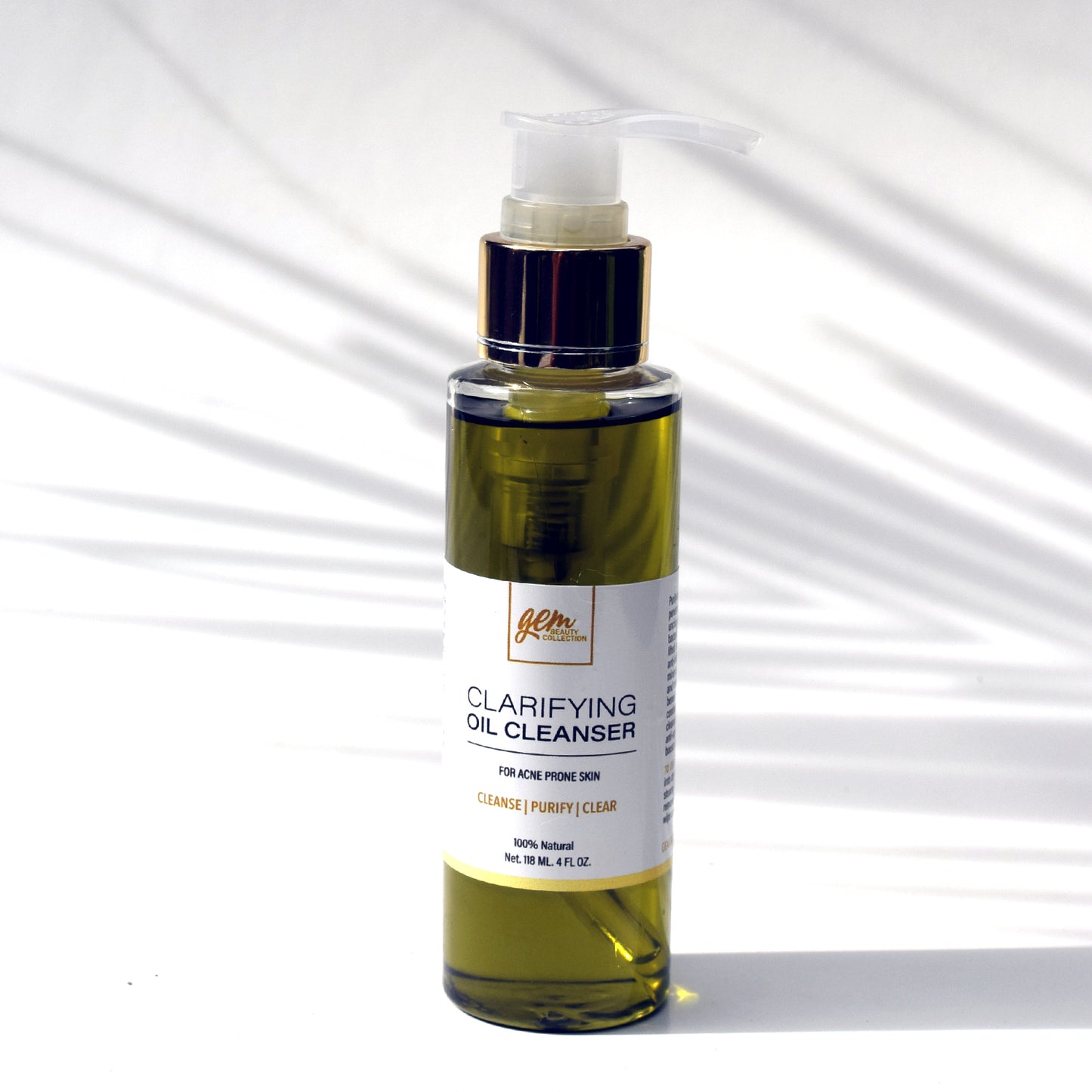 So far so good ….
I was nervous about trying this since I've tried so many over the counter skin cleansers. I have extremely sensitive skin and it did break out my face slightly at first, then the bumps started to go away from the slight irritation by day 5…I'll come back and update in a couple of months if I reorder.
New Oil Cleansing Addict
This is my first time trying oil cleansing, and I solemnly vow that I will NOT turn back. I have been suffering from maskne for about a year now and was literally on the brink of depression, having tried every product possible and still no visible results. My skin was congested, thirsty, dull and I had horrible scarring. When I came across Gem Beauty Collection I read carefully through the description and review of each product as I was extremely wary of trying another hyped up product that would probably disappoint and frustrate me again. After much deliberation, I decided on the Clarifying Oil Cleanser along with the Acne Control Mask and Acne Control Serum (which I will review separately). I have been using the oil consistently and faithfully every night before bed and this is what I have to say: 1. The clarity that I see and feel after each use is phenomenal. I stare at myself in the mirror. 2. My scars have faded significantly and my cystic acne is not as ghastly as before. 3. I think I have successfully decongested my pores! All in all, my skin is a decent little way from perfect but a faaaar cry from where it was before I started using the products, and I honestly haven't seen it looking so healthy in a long while. I'm enjoying the steady progress and ppl are noticing. My bf and my sis both commented that my skin looks clearer, and for the record they don't know each other 😂. Oil cleansing has definitely been a huge game changer for me. I know this is a whole epistle, just wanted to be as candid as possible 👌🏽
Clarifying Oil Cleanser - For Acne Prone Skin
It's worth the purchase!
If you're looking for a product that cleanses and makes your face feel very refreshing this is it! I love how my face feels after using this. Can't wait to purchase more.
I love using this product. I have dry dull skin and this helps to clear my face while maintaining its vibrancy. It's a must have for me :)